SECTIONAL OVERHEAD DOORS
BROCHURE

Download Sectional overhead doors PDF
SAFFE CONSTRUCTION
Sectional doors components suitable for long-term operation, even in heavy use. Steel profiles, which is coated with hot-galvanizing method, and which is installed inside of the building, providing safety of the construction. Stable hinges provide accurate and reliable connection of the door panels. Ball bearing rollers are strong and quietly, they move in the hardware profiles. Efficient operation of compensating spring shaft allows operating of any size doors. Springs are calculated for 15,000 to 50,000 operating cycles. Springs shock absorbers mounted in a guide at the end, probably absorb the gates opening. For special buildings, available hardware made of stainless steel.
FUNCTIONALITY AND ECONOMICALLY
Overhead sectional doors are produced following the newest international standard EN 13241:2003 +A2:2016 and certified in SPTechnical Research Institute of Sweden. Doors are made of triple-layer sandwich panels. Gap between two galvanized steel sheets filled with freon free polyurethane foam, what gives high thermal insulation. Door panels thickness are 40 and 80 mm. Sectional doors characterized by safety, durability, aesthetic and optimum heat insulation.*40mm U=1.1 W/m2K*80mm U=0.6 W/m2K
WINDOWS
Windows are a clear value added to industrial doors. Such gates fits better into the architectural scene and provide optimal space lighting. You can choose double glazed industrial doors.Panoramic windows made of acrylic glass double packed and aluminum profile panels, which provides maximum lighting.Rectangular windows 680*373mm, made of acrylic glass double packet.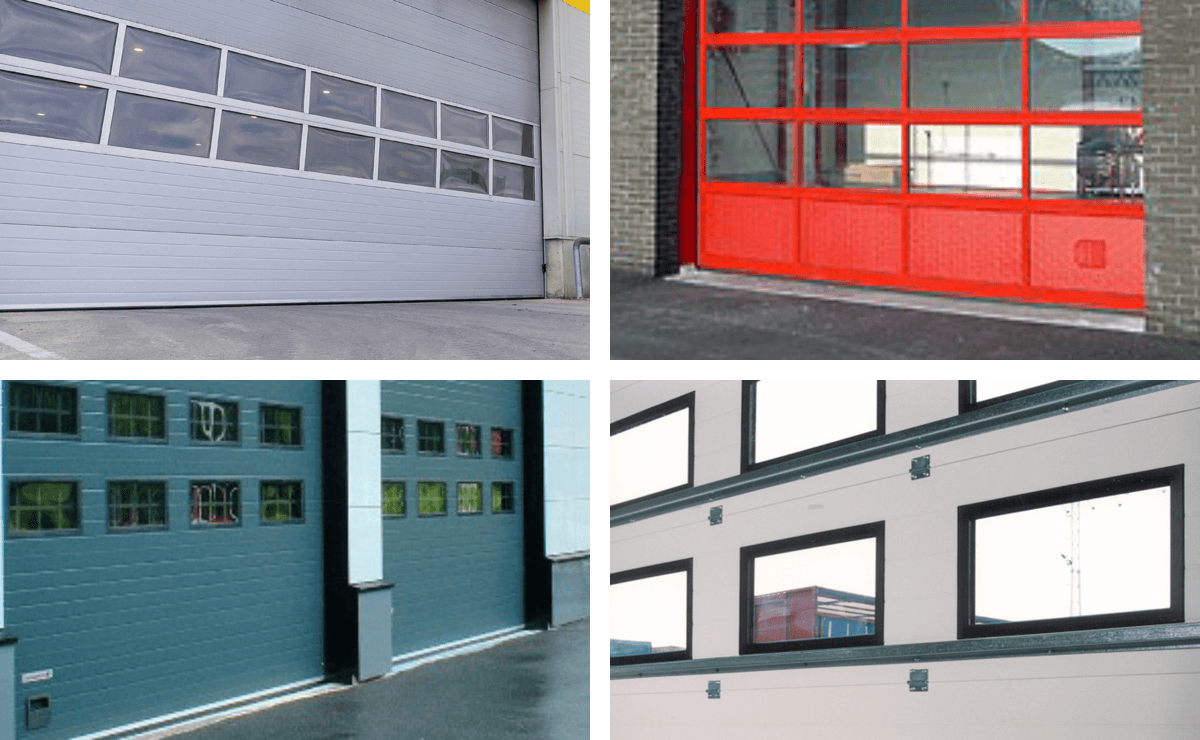 ENTRANCE DOOR
In order to ensure maximum comfort and coordinated transport and pedestrian flow, entrance door can be mounted into the door, having a size of approximately 800 x 2050 mm (width x height). Entrance door comes with a lock, handles, 3 keys and door closer. For better design and safety can be choose ASSA-ABLOY lock and 25 mm pass door bottom profile, name as a safe step pass door. For automatic doors higher safety level, pass door can be upgraded with magnetic pass door safety switch. It stop door moving, when pass door is opened.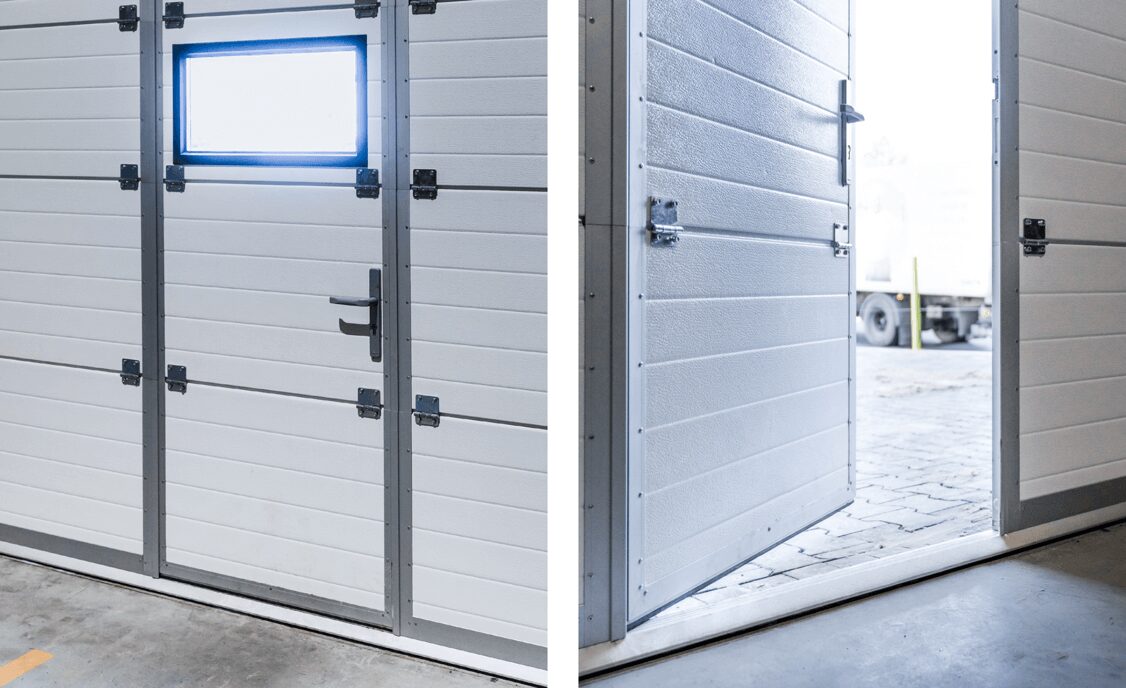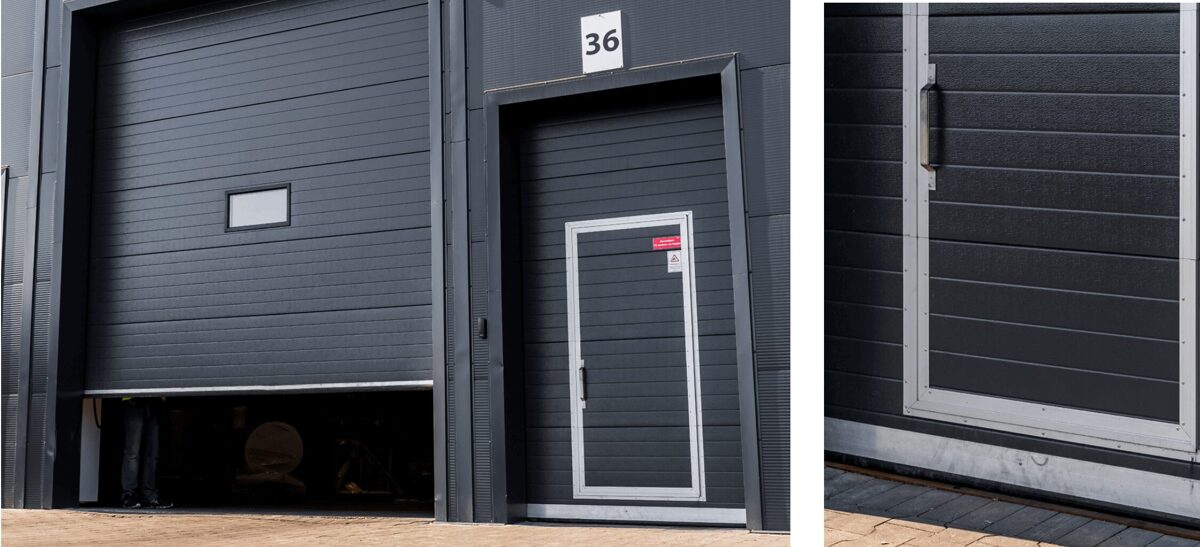 SAFETY SYSTEMS
To ensure the safety of operation, door unit may include safety equipment, which blocks the movement of the door, wherebroken cable, or compensating springs, thus providing a goal against potential accidents. Automatic doors can be upgraded with following safety features: Optical bottom seal sensor, pneumatic bottom seal sensor, pass door safety switch, slide boltand side lock safety switch, photo cells, microwave radars, induction loop cable mounted in the floor.
.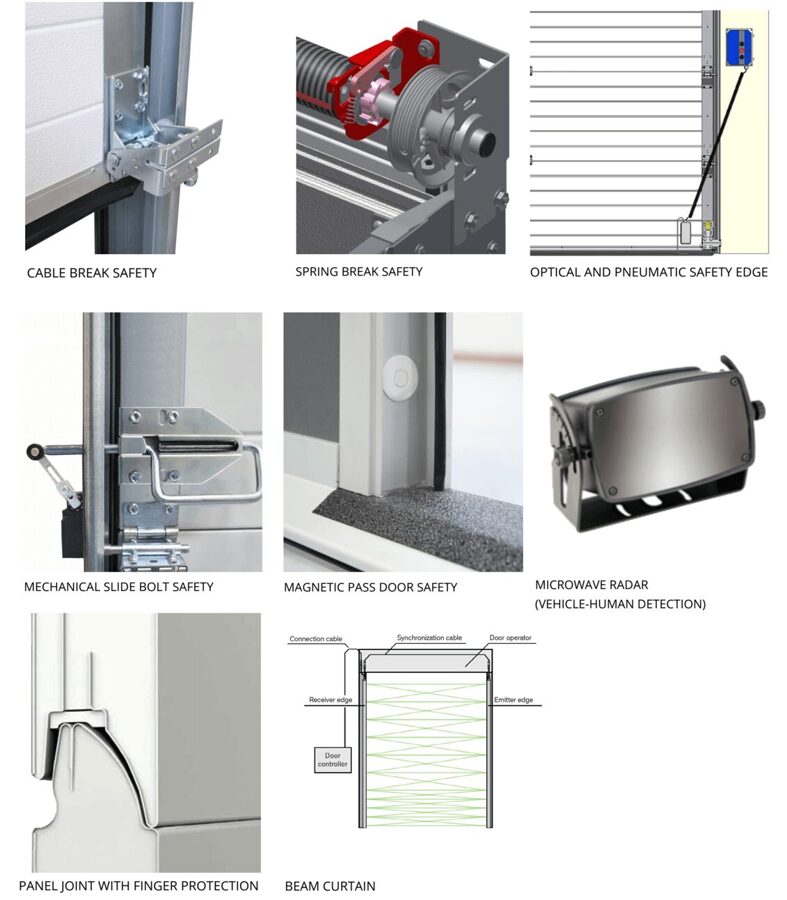 GARAGE DOORS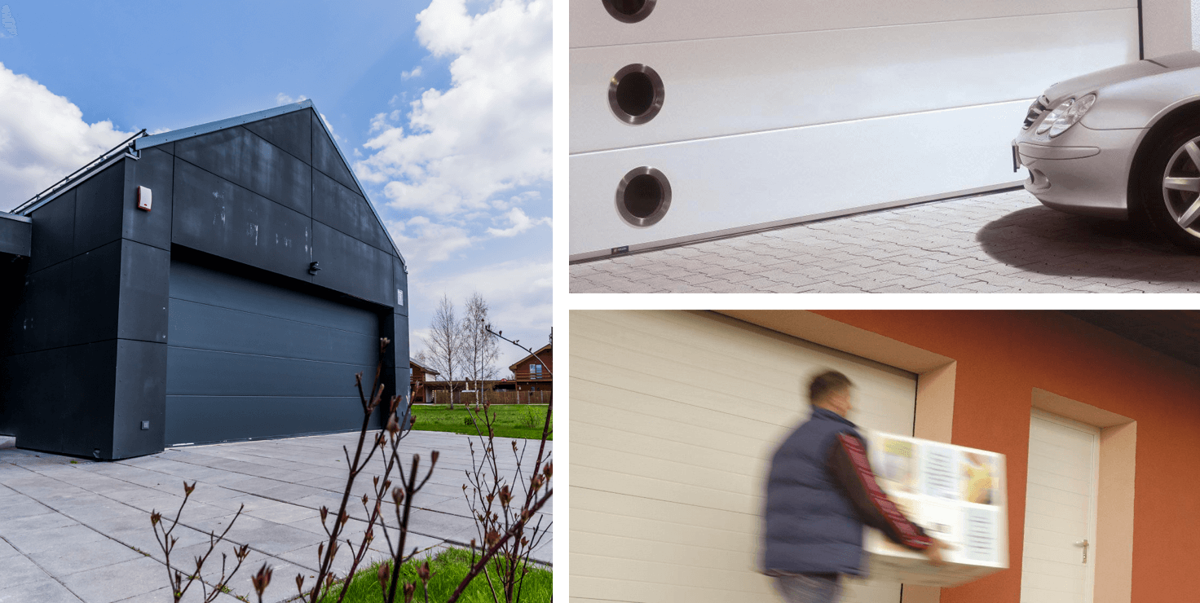 NON STANDARD SECTIONAL DOORS

STANDART TONES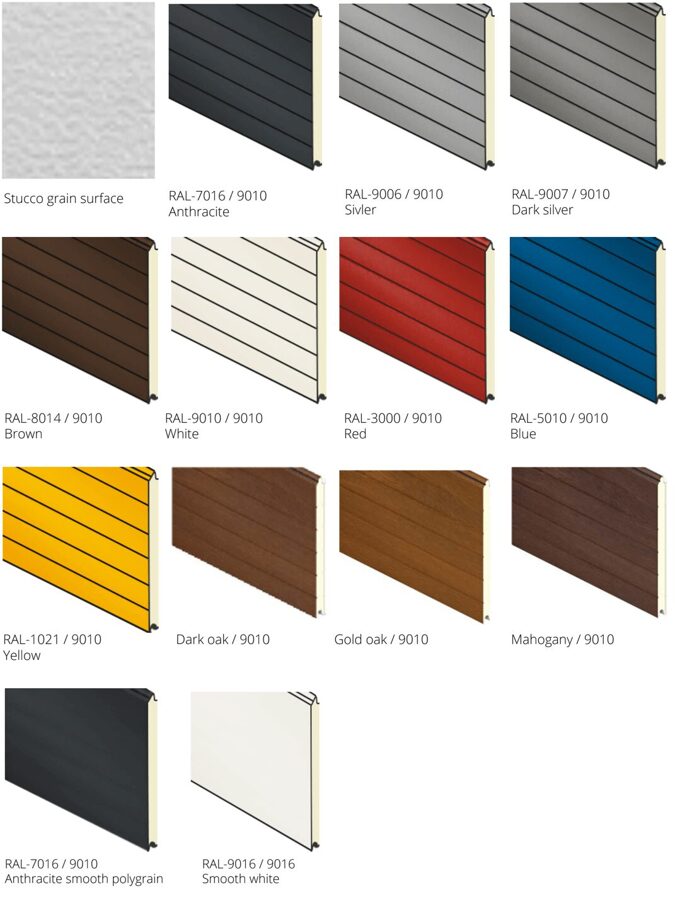 PANEL SPECIFICATION
1. Freon free polyurethane foam, density 42-45 kg/m32. Steel sheet 0.5 mm3. Panel strength on top and bottom side are supported with hardening ribs of 1.0 mm4. Panel steel sheet is coated with hot dip galvanizing method5. Polyester priming 10 microns6. Polyester paint 15 microns7. Polyester paint 15 microns (according to the RAL tone).8. Polyethylene film, that protects the door panels to the potential damage during transport and installation.
INDUSTRIAL DOOR OPERATORS
High quality, GFA-ELEKTROMATEN ,Germany

RESIDENTIAL DOOR OPERATORS
BOTTICELLI SMART BT A

RESIDENTAL DOOR OPERATORS
ARGO BT A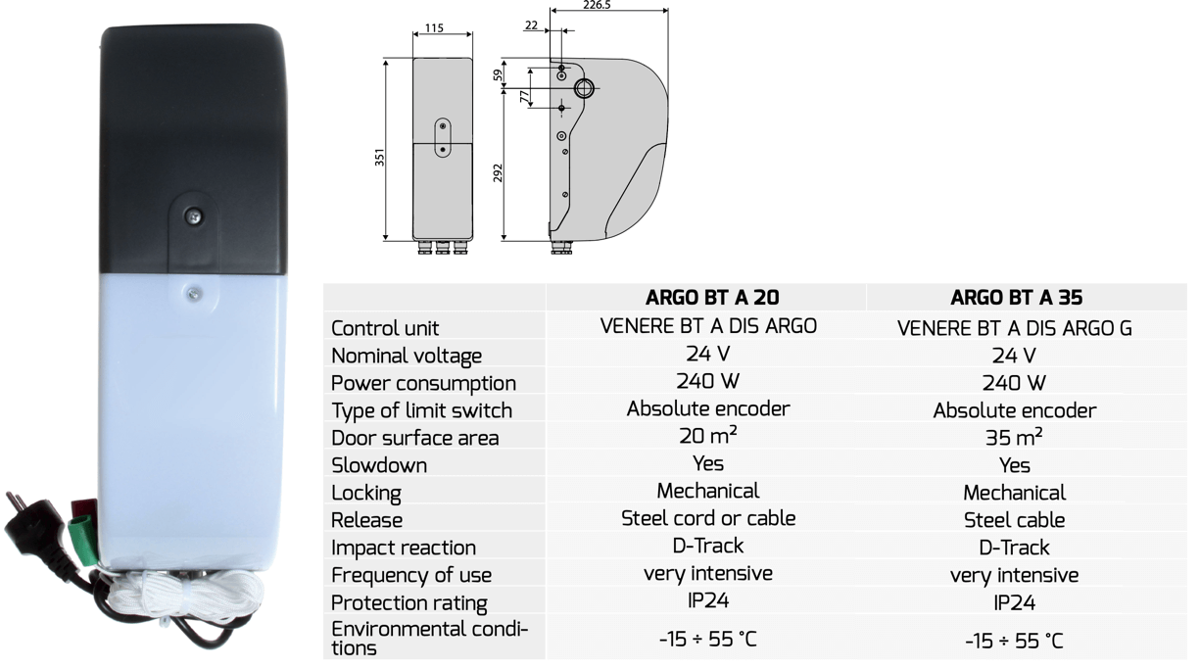 BROCHURE
Download Sectional overhead doors PDF
Extra info
Replace this text with some additional info. If there is no extra info, you can hide this text or hide this block by clicking the icon at the above right corner.