DOORS
Brochure
Doors with thermal insulation
Frame and sash: anodized aluminum
Filling: 40mm PU panels, stucco engraving, limited surface
Equipment: hinges, rubber seals, handle, lock, 3 keys
Additional equipment: windows 680 * 373mm, shutter
Purpose of use: industrial objects, anaries, garages



Standard tones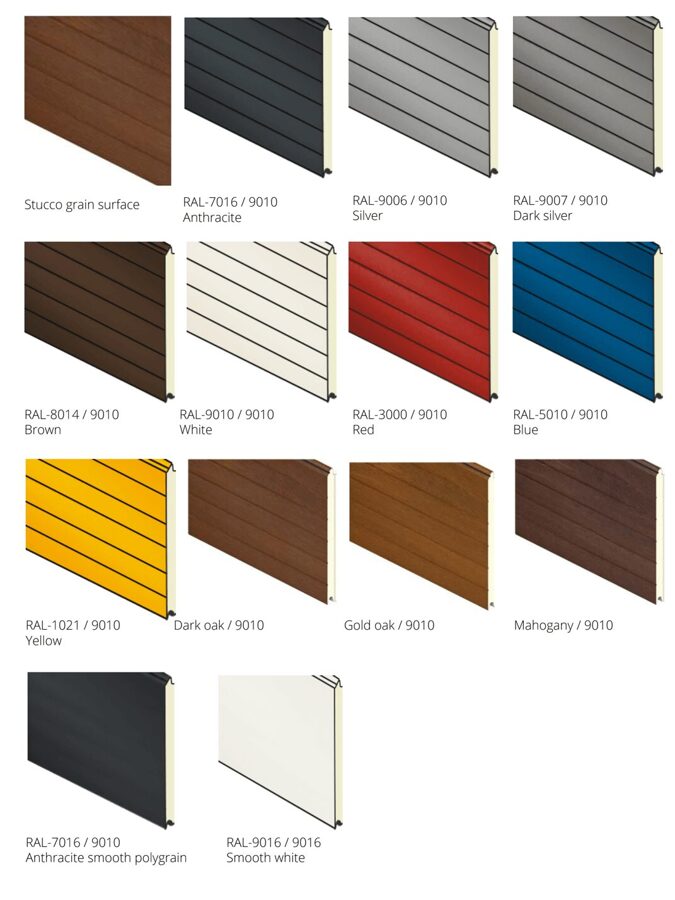 PANEL SPECIFICATION
1. Freon free polyurethane foam, density 42-45 kg/m3
2. Steel sheet 0.5 mm
3. Panel strength on top and bottom side are supported with hardening ribs of 1.0 mm
4. Panel steel sheet is coated with hot dip galvanizing method
5. Polyester priming 10 microns
6. Polyester paint 15 microns
7. Polyester paint 15 microns (according to the RAL tone).
8. Polyethylene film, that protects the door panels to the potential damage during transport and installation.
Brochure

Download Doors PDF
Extra info
Replace this text with some additional info. If there is no extra info, you can hide this text or hide this block by clicking the icon at the above right corner.